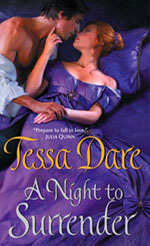 My waiting on Wednesday this week is
A Night to Surrender
by Tessa Dare. I got totally spoiled last summer when she had three back-to-back releases. It has been a LONG wait for a new book! But isn't the cover just gorgeous? She released the cover and
a website update
this week which makes the wait easier. The
blurb for the book
reveals:
In recent years, Spindle Cove had become the seaside destination of choice for a certain type of well-bred young lady: the sort no one knew what to do with. They included the sickly, the scandalous, and the painfully shy; young wives disenchanted with matrimony and young girls too enchanted with the wrong men . . . All of them delivered here by the guardians to whom they presented problems, in hopes that the sea air would cure them of their ills.

As the only daughter of the only local gentleman, Susanna was the village hostess by default. These awkward young ladies no one knew what to do with . . . she knew what to do with them. Or rather, she knew what not to do with them. No "cures" were necessary. They didn't need doctors pressing lancets to their veins, or finishing school matrons harping on their diction. They just needed a place to be themselves.

Spindle Cove was that place.
I can't wait for August! What are you waiting on?